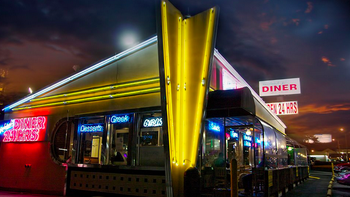 About Us
Landmark Diner Jr. was opened in 2005 and took the place of the old Dunkin` Dine. Although, Landmark Diner Jr. is a small facility, it still offers the same large menu like our other Landmark Diners, the type of large menu that you will find in all 24 hour New York Diners.
Landmark Diner Jr. is a great place to grab a bite, breakfast, lunch or dinner - your choice - 24 hours a day. You can enjoy great food, comfortable dining, and a great atmosphere all in a cozy spot on Cheshire Bridge Road.
Our staff is friendly, fast and ready to serve you. At Landmark Diner Jr. we want to make your experience the best, whether you`re having scrambled eggs, corned beef hash and toast, or a hamburger. Our team looks forward to serving you soon at Landmark Diner Jr.
For Online Delivery go to http://landmark-diner.com/