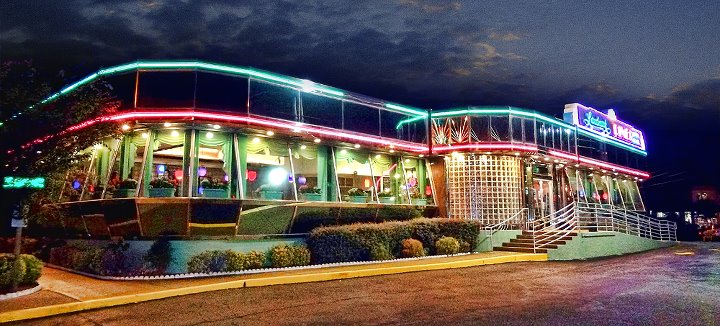 About Us
Landmark Diner - Buckhead is Atlanta`s Premier 24 hour diner! We are located in the heart of buckhead, at the corner of Peidmont and Roswell Roads.
Whether you are enjoying an early morning breakfast, having a business luncheon with colleges, dinner with your family, or a late night bite with friends, the Landmark Diner is the place to be.
We are a traditional 24 hour, New York diner operation with a large menu. Always prompt and professional service. Where breakfst, lunch or dinner is available to you any time you desire. From eggs benedict, to fillet mignon, we have it all! Our newly designed bar area serves beer, wine, and liquor. Whether you are at the bar or in a private booth, you can enjoy our drink menu while you eat. After your meal enjoy the best desserts around from our full bakery, as well as fresh challah bread made in house especially to accommodate your dinner meal.
Landmark Diner - Buckhead is a late night hot spot. It really is "Where the stars meet at night!!!" Not to mention, the Landmark Diner - Buckhead has a convenient side lounge, where comedy and music is available nightly. Laughs and fun are part of the dining experience at the Landmark in Buckhead. Comedy shows start every Wednesday night and continue each night until Saturday night.
With our low employee turnover, you are always a familiar face when dine with us. Come and enjoy your favorite meal along with a dedicated staff, that always remember you and make sure to make your experience the best around. See you soon at the Landmark Diner - Buckhead!